FINANCE, E-COMMERCE & LOGISTICS & VIRTUAL REALITY LABORATORIES:
CAPITALISMLAB SIMULATIONS: BUSINESS SIMULATION
Since 2017, we have been actively implementing laboratories and bringing the real business world to the Virtual Classroom Environment.
Seniors have the opportunity to experiment their knowledge and accumulations in virtual environments. In this context, with the CAPITALISMLAB (Online application facility available) program, our students establish companies within the framework of a capital limit allocated to them, produce goods or services in the company they have established, try marketing and growth strategies, evaluate financing opportunities by reviewing financial reports, and ultimately ponder what they should do to increase company profits, thus testing and improving their decision-making skills.

Our students experience the Real Financial World and Financial Markets interactively in a classroom environment and prepare for the financial world in which they will take part by acquiring the ability to learn and use software widely used in financial institutions, especially Meta Trader 4.0 and Matrix. In addition, they learn finance courses practically with the financial analytics approach.

Students learn logistics in hands-on manner in computer environment using various simulations under the supervision of responsible academicians and technical team. Logistics issues such as Supply Chain Management, Transportation Systems & Operations, Customs Clearance Processes, Risk Analysis, Logistics Information Systems etc. are handled practically.

In courses such as Virtual Worlds-Second Life &

Sustainability

& New Technologies in Business, they create different project groups in virtual worlds using the technologies of the future, producing projects and pushing the boundaries of their creativity by having ideas and knowledge about the future of the e-commerce world.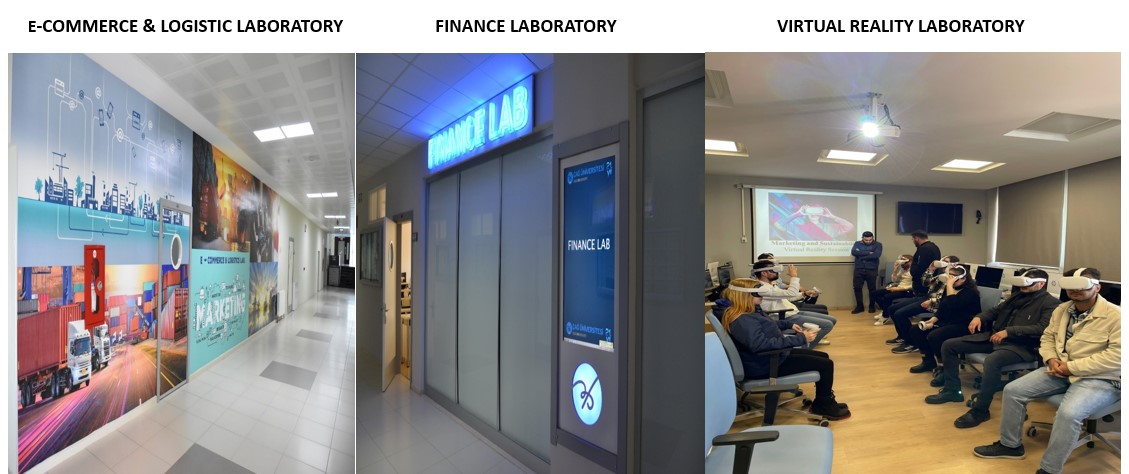 VIRTUAL REALITY LABORATORY
A Virtual Reality Laboratory is established in our faculty. There are 10 Meta-Oculus Quest 2 virtual reality glasses, LCD TV and a desktop computer in the laboratory. With the contents such as 'Ecosphere' added to virtual glasses in the laboratory, students are offered the opportunity to experience glasses. In addition, the courses to be held in the Virtual Reality Laboratory enable students to get to know and experience new technologies. At the end of the lessons applied in the laboratory, feedback is received from the students regarding their experiences, and it is planned to carry out scientific studies with these feedbacks.
STATECRAFT SIMULATIONS: INTERNATIONAL RELATIONS SIMULATION
Statecraft Simulations (Onlineapplication available); It is a software used by over 90000 studentswith scenarios exceeding 3000 in 475 universities in 15countries.It is used for the first time at Çağ University in Turkey.https://www.statecraftsims.com/statecraft-users/
In 2020-21, The course took part in the curriculum as IRE 439 Simulation in International Relations. A section of the course can be seen in the attached video.